Vienna Conference website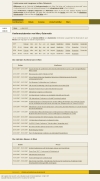 One of our most innovative projects is a website for a conference trips to Vienna in Austria.
On conferences-in-vienna.info you will find a conference calendar for Vienna, a hotel directory for Vienna, which is sorted by the public transport trip time between conference location and hotel, travel information for the travel to Vienna and information about the city of Vienna itself.
The first version of the website went online in november 2006. And this project has been the most complex one that we have implemented so far. The whole concept as well as the comprehensive software, which is necessary for the administration, calculation of trip times and operation of the website has been developed in house.
Link to the website: conferences-in-vienna.info